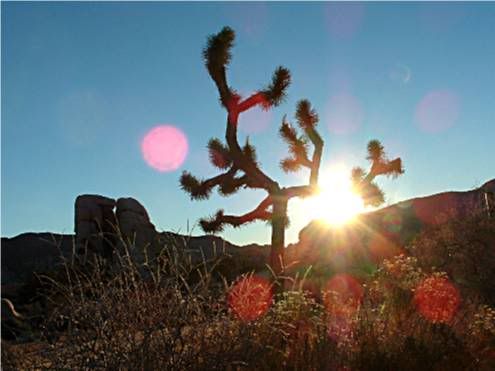 In less than two days, I'll be arriving in Joshua Tree for my seventh time. The picture above was taken the first time I was there, in December of 2004, from near my campsite in Hidden Valley Campground. I love getting up early to watch the sun rise over the formations.....

This and my last trip to the Tree have been kicked off by parties known as SushiFests, where a group of climbers(mostly) from Supertopo(mostly) gather in a camp space and...have sushi. LOTS of sushi. GOOD sushi! Sushi by Nature! Here's one of his creations from the April event, out at Snow Canyon in Utah....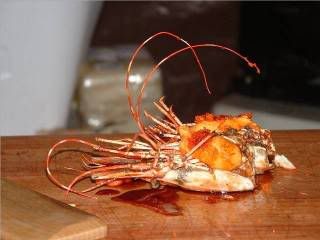 Now, I couldn't eat a whole...prawn?.... legs and all, deep-fried and smothered in - I think it's called Uni. But plenty of the others sure did, and they seemed to be ecstatic. I do know that his sushi is really, really good, and I have been on a sushi fast in preparation for the sushi fest! I can't afford the high quality that Nature provides, and because I've been trying to save for this trip - not even the delicatessen sushi at $10 an dish! It's strictly been canned tuna for my fish intake this last few weeks.... I'm ready for some fresh fish!

The party will be this upcoming weekend, with climbing at Joshua Tree during daylight, and live music, wonderful food, and fabulous folks after sundown. Should be fun....and that's an understatement.

Then, I will stick around and have another week of climbing, relaxation and general Joshua Tree living. Can't wait to meet new people, climb new routes, get spanked on some others and take some time out to live the life.

My return will allow me the weekend before Thanksgiving to get another Gunks weekend in, so long as the weather permits, and then....it's holiday season(lots of work for me) and the dreaded...cold months of winter(I haven't started climbing ice, and though I do like the idea, I think my dislike for the cold is going to be...an issue).

I'll keep this site posted as to my goings-on while out there. Recently I purchased a laptop and so I will be able to update as I go. I'm worried that I won't be able to upload pictures though, since this system runs on...Vista. Guess I'd better sign off and see what I can do about that, in case I need to deal with some horror of the evil Microsoft Empire.....

~~~~~~~
If you enjoy my blog and would like to subscribe through RSS, you can click the FeedBurner Badge here. Thanks for your support!
Subscribe in a reader