A few posts back I mentioned one of my "Great Finds," Orion Magazine, and talked a bit about some of the quality work presented. One of the articles, entitled "Drive-bys", inspired me to follow the leader...

The piece was about photographer Dewitt Jones and one of his shooting styles; that of simply allowing the camera to capture nature in motion, while he was in transit. No manipulation of the camera, no framing shots and setting up compositions. The antithesis of the shooter's dogma.

Of course, these aren't your average out-of-focus blur shots.... The man's work is quite wonderful, and I hope that if you haven't already clicked the Orion Magazine link above, you'll do so now.

While I don't pretend to be anything near an accomplished photographer, I do like to try my hand, and a few weeks ago, while walking the cliffside trail in the Nears, I was reminded of this serendipitous style. I was in a mood where I felt the structured shots I was looking for weren't happening, and so it was with a sense of delight that I made a few basic manual adjustments to my camera settings, and took off down the trail, to see what I might ....see. Or something like that.

Here are some of the captures I later found in my files.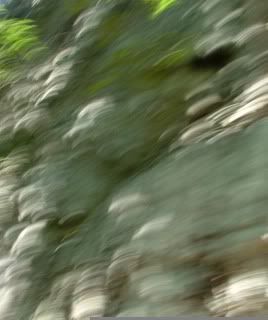 My camera is a very basic one, with just a few options to go manual, and I didn't really play around much at all. I am hoping to get my first dslr soon, and since I expect a period of frustration while I learn how to get what I'm looking for, I think I'll be revisiting this genre.

~~~~~~~
If you enjoy my blog and would like to subscribe through RSS, you can click the FeedBurner Badge here. Thanks for your support!
Subscribe in a reader