If you get out there enough, there are surely going to be days you won't be climbing; rest days, weather distress days, partner bailed days and so on.

Laying around isn't really the most attractive option for me; I like to get out and take a hike most often. If I am alone, or it's just me and Teddy, all the better. Then I can get out my camera and go shooting.

Last Saturday was one of those days. I can't really be too mad at my partner for bailing. It was a last minute arrangement and truthfully, he cancelled before even making a firm commitment(though it was implied). Still, when I woke up the morning we were to climb and saw fog like one expects in an English murder mystery wafting outside my tent - accompanied by a soggy wet 80 degrees temperature - I was grateful at least SOMEONE had had some sense...

The rock was visibly perspiring - heavily - to the point of dripping crimps. Even the chalked sections were water-logged. I like climbing, and am not adverse to getting out in inclimate weather, but this was pretty bad, especially considering my partner was someone I'd not yet met, much less climbed with....

And so, it was with relief that I pulled gear from my pack and replaced it with photography gear. A foggy morning is a good one, for the shutterbug.

Apparently, there were those not intimidated by the conditions, like these two, geared up and ready to go.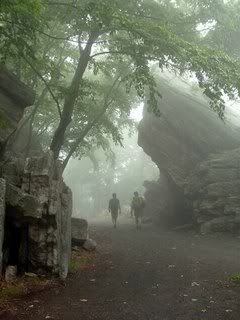 It was for sure a good time to take a romantic walk with your lover, and these people(not the same as from above) looked to be taking full advantage.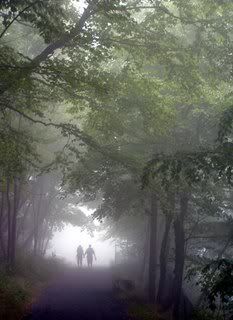 But I was on my own. Even Teddy was still dozing in the tent when I went out for the day's first pee and grabbed my camera.

Later in the morning, I headed over to the Uberfall with the hopes of NOT finding a partner, for once. I knew the day was going to be a tough one, and the last thing I wanted was to be tethered to a stranger, to be honest. I gave it about 15 minutes at most, before opting for a walking tour instead.

I got in a good number of pictures that day, but haven't gone through the files yet. I'm not a very good shot, to be honest, and so there's a lot of chaff to separate.

However, I did come up with one thing I wanted to share; something that I'd thought of the last time I was out in a fog, actually. And so, the purpose of this post - to pass the idea along.

If you like to shoot, you might also like getting close to your subject - the macro shot. For me, it's one of my favorites, next to shooting landscapes and climbing action shots. And Teddy portraits. Of course.

Shooting macro - one thing I have found for myself is that often my shots are down low, extremely close to the ground. Where it's muddy. Or pebbly. Or some other condition that makes you take pause....

But to get that perspective, nature and it's more diminutive state, you've got to get down and place yourself at a Liliputian's eye level. Hence - my suggestion....

I have taken to bringing my sleeping pad along when I go out shooting and I know it'll be a low-down day.

What an amazing difference it makes, to lay down that pad before getting down in the dirt. I have two pads, actually, because I have my dog. I leave the inflatable one in the tent, of course. The one I use for a photo crashpad is one of those Thermarests that folds accordian-style; it's called the z-lite. I like it because the eggshell pattern does mean less contact with the ground. Because of the pleated design, it stows to a small size, about 6 x 18 inches or so. Also, you can fold it to half-size, into thirds, or use the full length. If your subject is surrounded by beautiful plants, you can set down just a small section of pad. Which brings me to the next point.

Be careful about placing the thing, of course. Think like a conscientious boulderer, and take care not to damage delicate foliage. Once you lay down the pad, you'll be on top of it, making creeping adjustments to get the best angles. Your body will be placing pressure points in contact with the ground, and the movements you make in repositioning yourself will pull at the plants and earth underneath. Tread lightly!

The padded layer makes me so much more likely to get down there and really try for a good shot. Kneeling on gravel is a masochistic exercise of the past. I don't have to worry about wet mud soaking through my clothes on a chilly day, and when I get flat on my side or stomach - which is where the action's really at.... I can make the most minute adjustments without feeling the pain(of sharp twigs in my ribs, for instance).

Here's a shot I got, using my pad for a base layer. These funghi were alongside the Old Minnewaska Road on the Mohonk Preserve. They are probably about five inches at the tallest, and so I was flat against the ground for my shot, with my elbow propping me up a bit.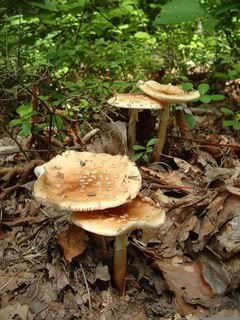 I wanted a viewpoint from slightly above to catch their dappled tops, but also to include their stems in the shot. The grouping of four presented many attractive angles to shoot from, spanning an arc of about 90 degrees. I took shots from several angles. Had I not had that soft pillow to lay against, I am sure I'd have taken but one or two, and might have even settled for shooting from the unstable crouched postion. (I haven't got the patience, unfortunately, for becoming adept at using a tripod).

So - if you like to shoot nature at a macro level, and also find yourself resisting going to the lenght(or depth) needed to get the shot - try using a pad next time you're out there!

~~~~~~~~~~~~~~~~~~~~~~~~~~~~~~~~~~~~~~~~~~~~~~~~~~~~~~~~~~~~~~~~~~~~~~~~~~~~~~~~~~~~~
If you enjoy my blog and would like to subscribe through RSS, you can click the FeedBurner Badge here. Thanks for your support!
Subscribe in a reader