So, we had a nice drive heading out to the Delaware Water Gap, on a Friday evening. Both the girls were very friendly and I thought we would be in for a fun weekend. We arrived a bit later than we'd been expected(NYC traffic) and the introduction discussion/passing out of the shoes and harnesses and biners part of the workshop was underway.

As we came through the doorway, one of the guides(Dave) came out to meet us and bring us up to speed. He saw my shoes dangling from my pack and commented that they had equipment for us to use. I now realize he thought I had gone out and purchased them just for the weekend....He told me to take my shoes and harness in to the other guy and ask if they were "all right" to use.... I knew they were making fun of my newbie stuff, and was a little miffed. But, what the hell - I WAS new.

So, they went through all the basic stuff a person needs to know in order to have a good chance at not doing things like walking off the edge of the cliff, handed out the shoes to the others and gave us a little history lesson. It was fun; there were about 8 of us, an even mix of men and women. Two others had been on rock before and I was the "Oh my GOD, I want to climb!" newbie. The others had seen the description in the AMC catalog and thought it would be a fun thing to try.

The next morning, we headed out to a roadside crag, and hiked up to our little section of rock. Here's Dave and Joe, giving us our "safety talk."





Here are the other participants for the weekend. This is terrible, but I don't remember some of their names....

This guy tended to go on these sorts of weekend things just for entertainment. His big thing was hiking above treeline, and he thought maybe with a bit of climbing information, he could go on more difficult trips. He headed off by himself on Saturday night, to the bar down the road, and didn't invite any of us along.....




This is Teresa. She drove the car out there. She works at VH1 doing product placement or something like that, and just wanted to try something new.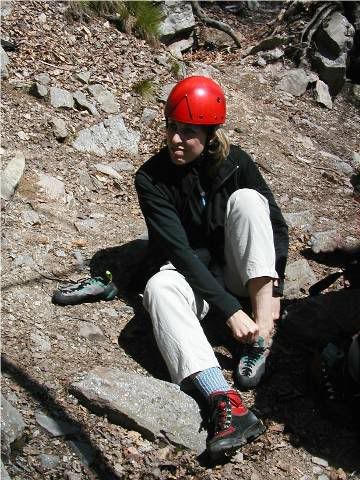 This guy, I forget his name. He had a job as a rigger, and took the climbing workshop to get some skills, I think he said.





This guy was Steve, I think. He was going on a family vactaion to climb the Gand teton, and wanted to have a little extra skill before heading out. He sent us all a nice little trip report after he did that trip a few months later.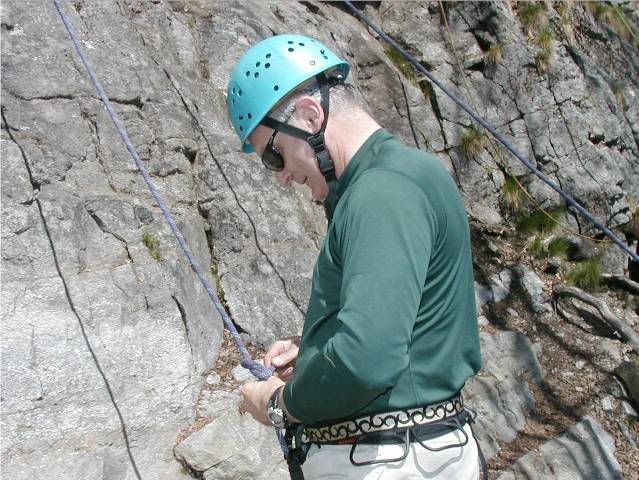 This is Janet. She had climbed at Red Rocks, and had recently joined AMC so she could get some outdoors weekend stuff going on.




This girl, I forget her name, but she was really very nice. She had never climbed beofr, and just thought it asounded fun, when she purused the AMC catalog. She found herself very frightened of trusting the gear, but kept pushing herself through, and she did a great job.