This trip was different than all the other ones I've done, because it was more about the people I met and hung out with over the actual climbing I did myself. In fact, my climbing was pretty abysmal. I'd only gotten one day out since I ended my 2005 season in mid December, and it showed. Still, climbing with so many people, and their varying skill levels, showed me where I fit in, in the scheme of things, and helped me to see my strengths/weaknesses.

This trip, I was timid and uncertain on the rock for the most part, often holding on for dear life even when seconding or taking my turn on a toprope. Every time I got a few moves off deck, I heard Mr. Wonderful hissing nastily over my shoulder "Belayers drop people on toprope too, you know." Mr. W is my imaginary friend, in case you didn't realize; he's the type that undermines my every move, yet try as hard as I can to shake him, he seems fixed in my cranium like a welded nut.

Lucky for me, the paradigm shifted when I was about two-thirds way through a lead. It was a visceral feeling; the sky almost seemed to brighten and I actually felt myself step deeper within my own consciousness. Unfortunately, it was the only lead I took on the trip and it was on the last day. We had time for only two other climbs afterward. But on those climbs, I was back in the game.

Lesson learned – lead on the first day from now on, no matter who I am out with. As usual, I had let the caretaker part of my personality minister to everyone but myself, afraid people would die of boredom following me on easy climbs, and end up in the "other" category of statistics in ANAM. But this time the consequences cost me several days of good climbing. Anyway…… I still did have a lot of fun, and what was, simply was. Now that I'm back in New York, Gunks season is here and I will get back to it. Got to up the ante on the hair-raising, religion-getting experience I had last year on P2 of Bitchy Virgin, after all…..

So, here are some highlights of the trip!

Last things first - this is the trip-altering lead. A frightfully easy(for most people) 5.3 at Indian Cove, called Double Crack. At the start, I was terrified to step into the crack, sure all of me but my boot was going to fall out, and I would bonk my head. I kept saying "I'm not sure I want to…." But, Locker, smart man, said "Just take one step up and then decide."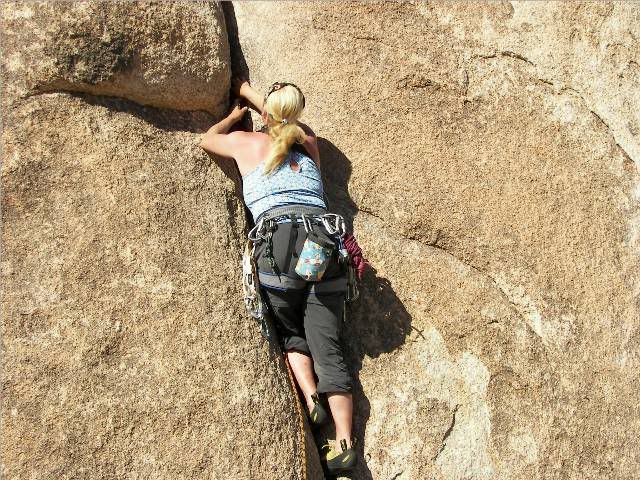 Of course, the end isn't usually the starting point in a story, so let's reverse things….

I met up with Wojtek in Las Vegas, and had a pleasant ride through the Kelso/Amboy route in the Mojave. I mentioned the upcoming miles containing washes in the road and how the car's suspension might react. When we entered the Dip Zone, I asked him to let me know if he was getting carsick and/or felt I should slow down. Through trial and error, we discovered the optimum speed for this section of the drive is about 80mph. But – I wanted Wojtek to see the sights along the way so he could be familiar with the drive when he came out again, and I wanted him to see Joshua Tree park in the daylight instead of pitching our tents in the dark. So, I drove 110.

Our first day climbing was Thursday, and since it was Wojtek's first JTree trip, I felt an obligation to instill in him the importance of the use of friction and tip conservation. He laughed at me when I suggested we hit slab to start things off and told me about how he'd aced…..I guess it's Whitesides, where there's mulitpitch slab. He was sure he didn't want to waste time on this exercise, but….silly guy – apparently he'd not even researched the Tree. So – he didn't have a better idea up his sleeve….. off to Echo Cove we drove.

You know the routes – Sound of One Shoe Tapping, W.A.C. Wojtek led Chute Up, placing gear probably so I would feel better following, and then we put a TR up. Then he decided he like the stuff, I guess, and wanted to lead one of them. So, he did. I think I have climbed these two lines about 8 times in the last half a year….so I was fine with not following. He rapped off the anchor and cleaned his draws.

Next, I took him to Fun Stuff, a climb that has a Gunkie feel to it. He led it clean, but poor me….I followed Brandt Allen on the thing last December, and got it clean onsight. But this time….I could NOT bust that first hard move…... Little did I know, at the time, that this was to be the theme of the trip….grrrrrr…..

So, after Fun Stuff, W wonders what's next. I am feeling like the hostess, but alas, I don't have a large inventory of climbs in my memory bank. I thought he might like to try a crack, and he agreed. We headed over to Leaping Leana and as we approached, I told him it was a 5.6. But I guess that big rock in the way put him off……He didn't even try to peek around it! I was a little bit worried about suggesting the pit star, because I was pretty sure I couldn't do the version….. Luckliy, I didn't have to. He totally dismissed the climb and went off in search of something better (Which… we did not find).

BUT! – while scrambling around….at the exact same moment we BOTH spied a gold Camelot, abandoned in a crack. AND on 3rd classs rock!!! Neither of us admitted it, but I am pretty sure we were in a race to the finish, winner takes all. Alas……..halfway there, and again at the exact same moment, we both saw that it had been a mirage. Simply a spot of light shining through between two boulders…… I am pretty sure we both also felt pretty foolish.

Well….we definitely had time for another route, and for some reason Real Hidden Valley wasn't doing it for my friend. "Hmmmmmm" I wondered to myself….."Where can I take this guy?"

Mike's Book.

And so, off we went.

Now, you already know(because I mentioned it, sort of) the theme of the trip was that that I was having an inability to climb 5.8. But even I knew that I would not be able to do the 5.8 start on that climb. Still I knew I had to be truthful and tell him the two variations.

I was hoping he'd take a swipe at the thing, give up and go for the s-c-c-c-c-c-ary, but easy, unprotectable traverse, but the guy scouts it out, and decided he can do the harder start. He does decide to protect himself though, and places a cam while on the ground, and another after he's gotten a stance off deck. With a bit of effort, he cruises through the start and is on to easier climbing.

Now….mind you, Wojtek is like 6 foot 18 inches tall, and I am 5'4."" Of course I can't reach those pieces. And I know I can't climb to them either. But I tried…… I was just about to call for slack so I could go the 5.6 when I realized there was a problem. The gear.

I am very, very proud of myself for realizing that I can get this gear, by prussicking up to it. And, that was what I did. Shocked, too, was I, when I didn't have the trouble I was always certain would occur. I'd only practiced it two or three times, and I think I climbed maybe 3 moves during those times. But, I did run into a problem after I got the second piece cleaned. One of my prussicks wasn't perfectly made, and the rope was against the rockface. I couldn't keep it away from the face, and balance myself, long enough to unweight and move it up……

This was frustrating, and Mr W., who speaks to me sometimes through visions, thought it might be helpful for me to understand how serious a problem this COULD be, and immediately transported me to an icy, freezing mountain ascent…..where my mistake and inexperience was SURELY going to get me killed. Luckily, I realized I was now wasting my real-life partner's time, and flicked the switch back to reality….. I wanted to work it out, but the truth was – I was about 10 feet off the ground, and could easily get lowered, regroup and come around the easy way.

So, that is what I did. I guess I need to practice a little bit more on my rope ascending skills…..

I will say that Mike's Book gave Wojtek his money's worth, and I got to hear a bit of grunting and whining. But, I think he enjoyed the climb, and I know that I did. Somewhere along the way, he was stopped and placing gear, and must have been too close to a bird's nest, because the thing kept swooping around and dive-bombing him. Anyway, we got to the ground just as darkness began to settle in.


Friday, we were meeting Brandt, and when he arrived at our camp, I introduced him and his friend around. We were also there with Rich DeCredico and Brenden Mileau(?) and the decision was that they wanted to take a little more time at camp, and would meet up with us at the Hall of Horrors. So, off we headed. Brandt led Lickety Splits(5.7) – a bit of run out on that one up top….. and set a TR for us to go on. Then, we climbed Zardoz(5.8) which is another fun line. Here are Wojtek on Lickety Splits(5.8), Hall of Horrors).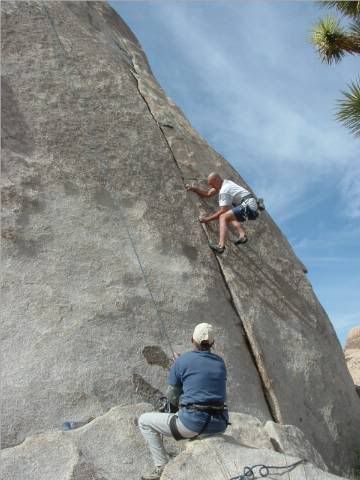 We walked around the side, and came to Lazy Day(5.7), which Wojtek was going to lead. He did a fantastic job(photos below), but I had not been paying attention while he climbed, because I was too busy playing photographer. I don't like to suss moves out from the leader anyway, but…..I was just not following my own instinct when it came to the first move. Second-guessing myself, I flailed. And continued to, until I had a cheerleader squad shouting blow by blow beta (Rich and Brenden had caught up with us by then).

Finally I got past that spot and through the rest of the climb. Then Brenden and Richard deceided they would give it a run, and Brandt and his friend(I forget his name! A brittish accented, very nice man who was visiting) took off.

Here is Wojtek leading Lazy Daze(5.7, Hall of Horrors)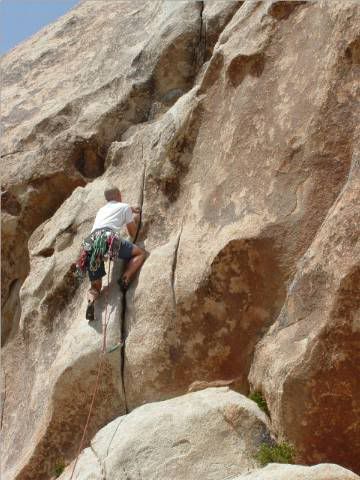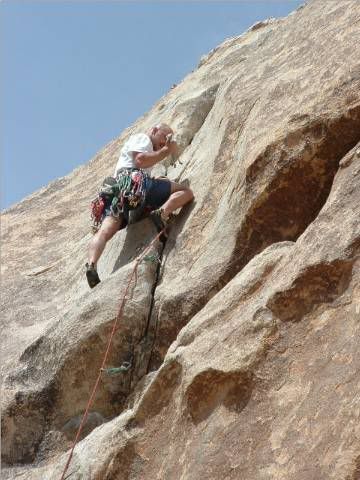 Wojtek and I waited while the others did the climb, and when they returned we all decided to head off to another, as yet undetermined, crag.

Now….I can't go into all the details of what happened next. BUT! It was a biiiiiiig event. "Apparently" there had been a misunderstanding between Brenden and Richard, about the keys to Rich's truck. DRAMA ensued. VOICES were raised. TEMPERS flared! DUMBFOUNDEDNESS occurred!

CULMINATING in Richard blowing his TOP and KICKING Brenden out of his truck! He was going to abandon him on the roadside, in the middle of the desert. He was going to end his trip, and drive right back home, right then and there.

Brenden started unloading his gear from the back of the truck. Boy – did he have a lot of stuff…… I knew we were going to have to load it into my compact rental car and didn't know how it would all fit…..

Richard yelled that he NEVER wanted to see Brenden's face again, and when Bren said "Well, I am going to have to get my truck from your house." Rich shot back "Don't you DARE step foot on my property, or I'll have you arrested!!!! Get it TOWED."he viciously growled.

The situation was unreal. AB-surd, I tell you. And I didn't know what to do, but…. I felt I had to do something! I decided to try to cajole Richard into staying, and cautiously creeped my way to the cab of the truck, where he was jitteringly trying to jangle the keys(which had not been lost at all, and were in Rich's haul sack, right where he'd left them) into the ignition.

"Please don't leave." I said in as soothing a voice as I could muster. "I really want you to saty, and to climb with us." What I wanted to say was "Are you CRAZY!!!??? WTF!?" But I was really terrified out getting the same treatment Brenden had gotten, which the words I laid don't even begin to describe.

Richard calmly looked at me, and pretty much convinced me in three words or less to get the fuck a way from him. Which, I did.

He THREW the truck into reverse, and with SCREECHING tires, he backed right out onto the road, hit first gear and….away he went.

WELL. I don't have to tell you we were all shocked. "So that is what people are talking about, when they say drkodos is crazy" I thought to myself. Well, I had been thinking that all along, but….well, you know.

Poor Brenden. He was pretty upset, and I won't say that I thought he might start crying, but…well, I guess I did just say that, didn't I? Anyway, he didn't. He said "Hey, what the hell, eh? Let's calm down, have a beer and then go climbing. D'you think I can put my stuff in your car?"

And so – that was the plan. We were pretty shaken up, but realistically, that was the best option. And so , the guys cracked a beer, and I, being a non drinker, wished I could have cracked one myself.

The guys were about halfway through their beers when, what to our wondering eyes should appear, but a tiny blue truck heading right straight toward us. No – not to run us down…..

Brenden says "Oh. He forgot something and that is what he's coming back for."

As Rich draws nearer, Bren gets up to get the item and starts out "You forg…." And Richar – with a maniacal look on his face and a voice to do it justice yells – while coming to a halt – "HALL....OF.....HORRORS!!!!!!"

"WTF?" we all must have said. So he repeats himself.

"HALL. OF. HORRORS!!!!!!" And he cackles and laughs and looks like he is going to bust a gut overdosing on giggles and glee.


Richard SWEARS it is a longstanding tradition to bring newbs to this place and prank them…… "Why do you think they call it the Hall of Horrors?" he asked, very simply, with a shoulder shrug of dismissal. He tells us a story of the larger than life persona who started the charade so many years ago, and by the end of the tale, we are laughing ourselves silly and enjoying the moment immensely, albeit still with a tinge of doubt clouding the sky.

It was actually pretty funny.

Really.

Maybe you had to be there, but I assure you it was.
.
.
.
....

After we got all Brenden's stuff loaded back up, we headed off to Hidden Valley campground, and made our way to Hand's Off(5.8). Richard led, all the time, expounding on the fact that nary a jam was needed to ascend the route, hence the climb's name.

That guy, on lead, keeps up a consistent level of hilarious chatter, telling stories, and making little rhymes as he moves through sticky points(not that there was anything sticky on this climb, for him; I refer to one's more at his limit). Since meeting him, he has acted as an in situ mentor to me, and as he comes across parts of a climb that he feels would present challenge to me, he advises me as to how he is handling things. This style of teaching is very helpful to me, as it seems he simply puts it out there, for me to take or leave as I will. Since I have some issues that cause me distraction if I feel like I'm being watched, I find climbing with him to be incredibly rewarding, and am very grateful for the generosity he has shown in helping me.

Still, he did make one jam(maybe two) though he came up with "perfectly rational" explanations as to why he had done so, and how he could have chosen not to….. Downstairs, we were cracking up. The man is just funny, and puts on a show 99% of the time he's in public, plain and simple.

To give you an idea, I am going to paste a little photo essay, though these shots are actually from later in the trip. Rich had just come off a climb and was talking about the great experiences he'd had doing it, when he noticed I was snapping photos. I could actually see him step into his Mr. Entertainment suit, and begin gesturing for my lens' benefit, as he described what might be construed as simple climber talk. By the looks of it, you might think he was expounding on deep philosophical concepts, but he was just talking about the crux of the climb he'd just sent.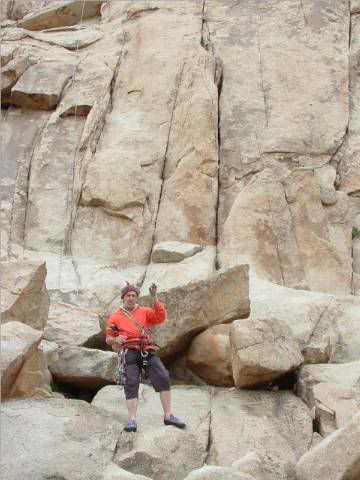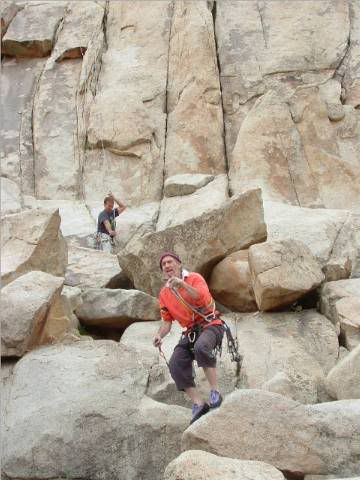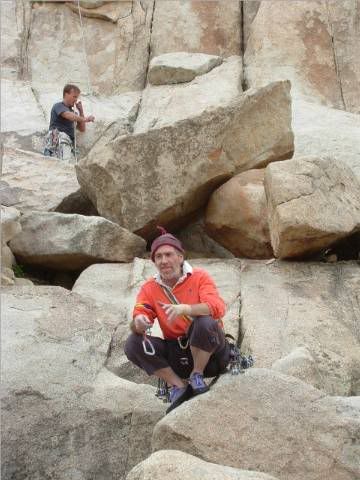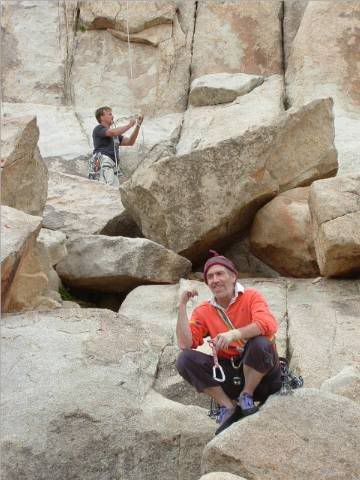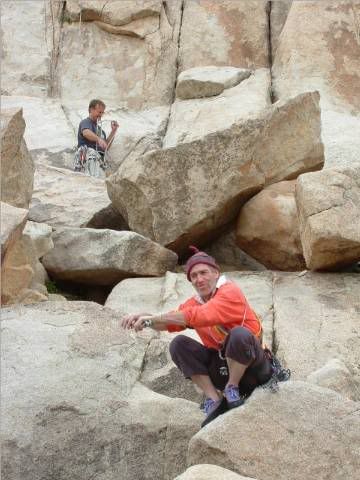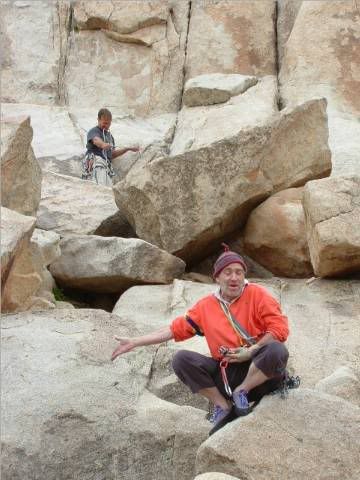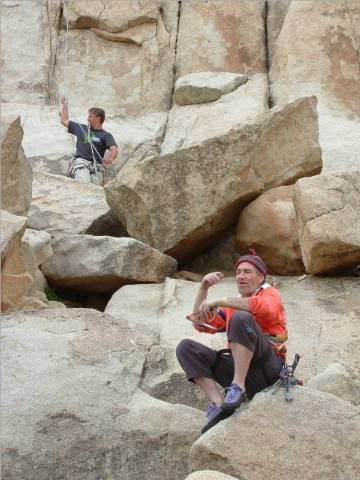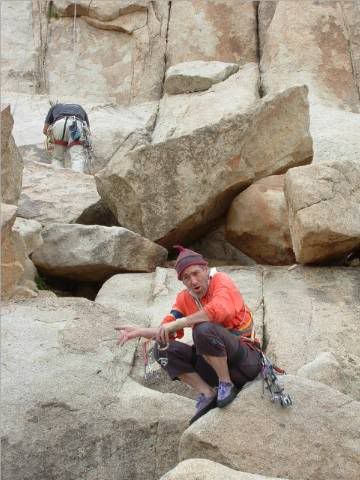 Anyway, back to our day. We took a hike through the Outback, the destination being Loony Tunes(5.9). Richard led again, with Brenden on belay. He kept up the rhyming chatter for the entire route, and he made some little sounds indicating a bit of difficulty. Now – Richard can probably get up that route one-handed, and I knew it, but that did nothing to dispel my fears. I was to follow him, and I just couldn't see how it would be possible for me to do so, given the effort he seemed to be expending.

I was really worried, because I had performed abysmally on Hand's Off, a climb I had TR'd clean last December(though with a lot of effort) and climbed with only one fall the first time I'd been to Joshua Tree in December 2004. Thinking on how badly I'd botched it, I had serious doubts I would be able to get more than 10 feet through Loony Tunes.

I was surprised to find myself able to get through the starting sequence, and realized Rich had been pretending to be struggling. But then I remembered he hadn't started his act until a bit further up. At any rate, I made it through the part I had thought would be my limit, delightfully shocking myself at doing so.

Then, I came off, about 30 feet up. Within seconds of weighting it, maybe even before it returned from the stretch, I heard from above "Get off the rope! The belayer's job is only to catch falls; everything else is a perk." Now…..most people would find that a crass and rude thing to say, and entertain discourse on the duties of a good belay, but I think it was just Rich showing me a higher standard that the game can be played at. He then called down that, with his partners, if they don't get back on stance within a reasonable amount of time(immediately, apparently!), he starts to slowly lower them, and especially if they just fell off after getting through a tough part, seeing their recent accomplishment pass by usually acts as incentive to get back on the rock….. Interesting.

That climb was not an easy one for me to get through, and I think I fell once more before getting through that section, but after I was through that bit, I found a good rest spot and had time to regroup. I was so pleased with myself for making the moves I'd just done, because I KNEW they were harder than anything I'd ever gotten through before, that I committed to doing my best for the rest of the route. Secretly, before starting out, I had made a deal with myself that I would "try" to get to a certain spot(which was lower than the area I'd fell on), then feign climbing inability, and get lowered off.

That may be a thing most people wouldn't admit, but it is the truth, and so…..well, it's just the truth. If I can't acknowledge my own self-defeatist concepts and behaviors, they will stay with me, hindering me further.

The rest of the climb did take all I had in me, but it was really very fun. The moves were interesting, but not difficult for me to see. It was the type of climbing I like best; counter-pressure, balance thoughtful movement. Of course…..then came the chimney….. They may involve counter-pressure, but…. everyone knows it's not the same thing as a delicate stem or palming technique. Grunt work, and I labored through it. But, I like chimneys too, and so it was pretty enjoyable. Especially after suceeding.

Wojtek came up next, and Brenden walked up the back with some water. The view was spectacular and we stayed up top as dusk began to settle. I was very worried darkness would descend while we were still atop, because I am a chicken. I knew that Rich and Brenden knew the descent route, but I didn't think they knew just how much a chicken I was. I voiced my concerned, and Richard told me we had enough time, that only idiots got stuck in the dark unexpectedly…… Still, that bit of downlimbing scared me, and I was glad they helped me through it.

It was a really good day, and though I definitely need to try that climb again, I counted it as a personal success. I've been on probably less than ten 5.9 routes, and that was the first one I'd taken every move on. Plus, the awareness of my "deal-making" self-sabotage and how badly that was working for me, was a breakthrough. We packed up and hiked back to the car.

That night, we made a nice campfire, and our neighbors came over to share the warmth. Things were going nicely, but somehow the conversation turned to commercial development in areas near climbing destinations. I won't go into details, but one of the neighbors began expounding on how horrible it was that the land near his home was changing. Taking a bit of a "close the gates, I've gotten in and that's all that matters" approach.

Let's just say that Richard….enjoys…..discussion, especially when it gets heated. Well – as things started cooking…..sparks began flying and they weren't coming from that soggy Circle K firewood! It's too long a story to tell, and if you want to hear it, just ask Rich. You're sure to get a fairly detailed synopsis, but it was pretty brutal. Even so, what came out was the truth, and that is what Richard always brings to the table. He serves it up raw and cold, and though some people prefer wine or lukewarm fare, or even convenience food, that is simply not on the menu when dining with the guy most people know as drkodos.

A full day, it was.
.
.
.
.
...

Saturday was a busy morning at the campsite. Ryan had driven down from San Diego the night before. Too, a man who wishes to remain mysteriously anonymous stumbled into the bright light of the fire asking for drkodos, and the two traded hugs and backslaps like the longtime/no see friends that they were, and Fran, his wife and BEAUTIFUL baby.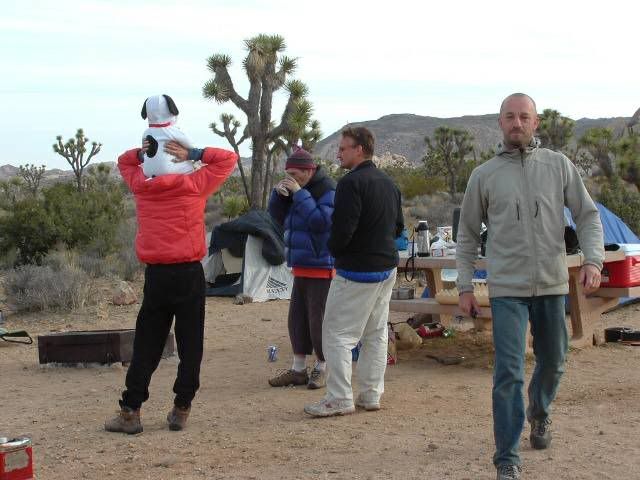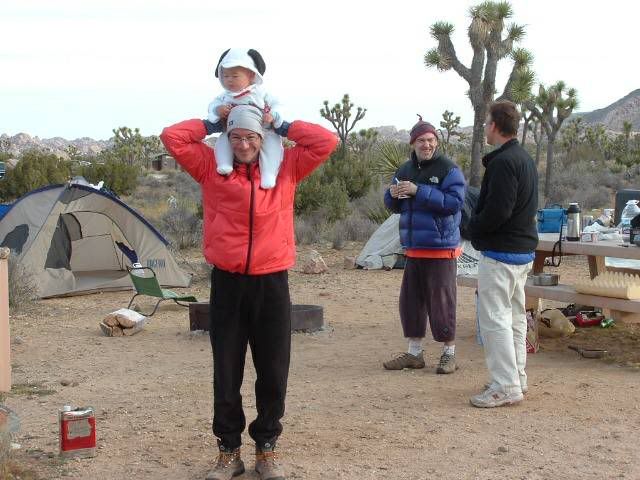 Fran, and his adorable son - What a cute outfit, too!

Fran also had another climbing friend along, and Maghalee, an old friend of Brenden's, had arrived the night before as well. Along with Wojtek and myself, we had more than a full house, spread amongst three campsites!

Too many people to possibly move en masse, we split into a few groups for the day. Fran's family and friend went off to do some climbing, Richard went on his way to do some freesoloing, and got 34 routes in before early afternoon. The rest of us headed off together, the plan being that Brenden would sort of herd us along……

We started out at Real Hidden Valley, on the Sports Challenge Wall, where Brenden led Ranger J.D.(5.6) and Ryan led Ranger J.B.(5.8 in the old guide, and 5.6 in the new one. I don't know if it is a 5.8, but 5.6 seems pretty stiff a grade to me, queen of the sixes!). A good time was had by all, as we took turns running the lines, and catching up, and getting to know each other.



Mac, on Ranger J.D.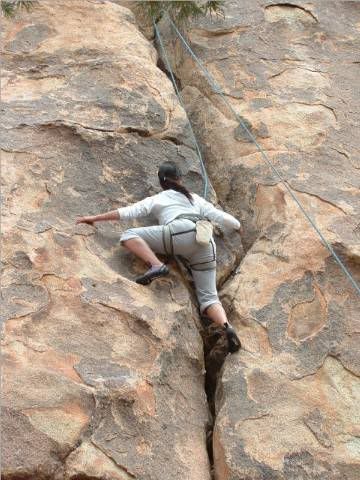 Mac, on Ranger J.B.

The weather was very nice while we were on those climbs, but as we headed on to do something else, the sky clouded and the wind picked up. Brenden led us through a maze of trails, but being the weekend, each climb we had in mind had ropes dangling and people waiting to get on it.

I guess he knew where we were going, and the rest of us amiably followed, for what came to be a scenic scramble amongst the canyons, with more than a few hairy, exposed moments. At one point, Brenden turned a corner and scared an owl from its roost. I heard only the fluttering of wings, and a screech out of someone(not the owl). I was in the back, and thought someone had fallen. Luckily, this wasn't the case, but I felt disappointed – because I had missed seeing the owl.

As we continued down the path, major evidence of an owl community abounded. There was owl poop everywhere! Clearly, it was an actively inhabited habitat, and I would like to go there again, to carefully check things out. I've always been fascinated by owls, and the thought of seeing them in such a setting seems like something worth planning a night out away from camp for. (I think it would probably have been difficult to navigate the route in darkness.).

We continued on, and though I had the feeling we had just gotten completely lost, eventually Brenden pointed out his objective. Yet some more scrambling that had me in a bit of panic, and we were up atop a boulder, off to the side of a climb he wanted to do. I cannot remember the route name, nor the formation, but it was a 5.9 route that follows a large flake on the left, where the leader can place gear, then diagonally up to the right and a line of 3 or 4 bolts. Getting to the start, you had to cross over an exposed drop, and I was happy enough to let this one go. My arms were trashed from the work I'd done the day before on Loony Tunes, and as I have said – I am a chicken. The scrambling we'd just done had been adventure enough for me, and the cold and wet wind had me feeling unmotivated. I hunkered down in a dish atop our rock, trying to shield myself from the wind with my pack, and watched Brenden, Wojtek and Ryan each climb the thing while Maghalee and I enjoyed girl talk.

Afterward, I think the cold had kicked all our butts, and we made our way down to the parking lot, where we made a smorgasbord of the food each had brought along. After dining on juicy oranges, candy bars, bagels and PB and J, we were still a little off and no one seemed to have a plan to suggest.

Brenden suddenly brightened and quipped "How about a team summit of The Eye!" Laughing, Ryan and I, who knew what we were in for, were happy for the lark. Maghalee hadn't been climbing for some years, and the day had already been a full one for her; doing something harder would probably have left her frustrated. Wojtek was on his first trip to the park, and so of course, he needed to climb The Eye. What better "style" than a siege expedition! As for myself, I had come to the park hoping to lead the line, but knew it wouldn't be happening that day, so was looking forward to climbing the route again, and seeing how it felt compared to last April, when I followed a person who had seemed very disappointed in the whole JTree experience.

We headed over and came to the base just as another party of three was preparing to leave. Wojtek led the line quickly, and I was to follow, trailing a rope for the next person.

The food we'd eaten had kicked in by then and rejuvenated us, and the weather had brightened back up, too. We were laughing and joking about our team push for the ascent, and having a good time.

As Wojtek neared the top, I went to put my shoes on. Long ago, way back when, oh……a little less than two years ago, when I first started climbing, I realized it was a good habit to check my shoes before putting them on. This concept occurred to me when I saw a photo on Gunks.com of a person's foot, with a centipede squashed into the skin, when he had booted up and not known his shoe was inhabitied. YECHHHKKK!!! I NEVER wanted that to happen to me! And so, I started checking my shoes – take a peek inside, turn it upside down, slap it against something hard, and then look inside again.

The routine had become second nature for me; and I did it without really thinking. Imagine my surprise when all that dedicated effort finally paid off, and out flopped a GIANT stinkbug!!! The poor guy landed on his back, squirming his legs, trying to get the momentum needed to right himself. I am sure he somehow managed, but I couldn't tell you how long it took. I was in shock, thinking how close I had come, to not only having stinkfoot unlike the normal climbing shoe stench, but to CRUNCHING a poor, innocent GIGANTIC BEETLE against my bare skin!!!

Anyway, Stinky got some attention from the crowd and got on his way before someone stepped on him for real, and I laced up, tied in and started up the route. The climbing on that line is nice. Thought-provoking and graceful moves, and a sense of exposure. I was glad to have taken part.

Next came Maghalee, who did a fine job, but as she neared the top, I heard her let out a squeal. "What happened? Are you all right?" someone called to her. She said she was okay, but that she had taken a high-step, and placed her foot on the tip of her fingers! Later in the evening, she told Richard about this, and because she had earlier said she wanted a username for rockclimbing.com(now that she was back), he dubbed her FingerStomp. If you see her online, now you know the story behind the name…..

One by one, we all bagged our peak, or anchor, or whatever, and headed behind the wall to laze about before walking off. I had thought ahead(well, sort of), and asked someone to bring up my camera, and we set the thing on timer and took a group summit pose. Here it is: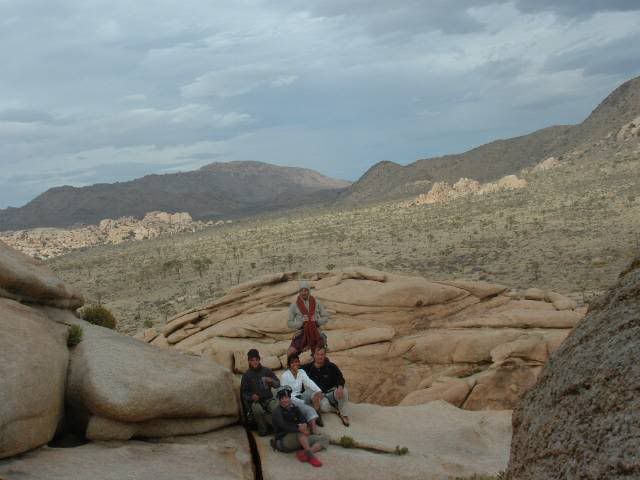 Afterward, we headed down the back and east, to do a little bit of bouldering. Here are some shots from that: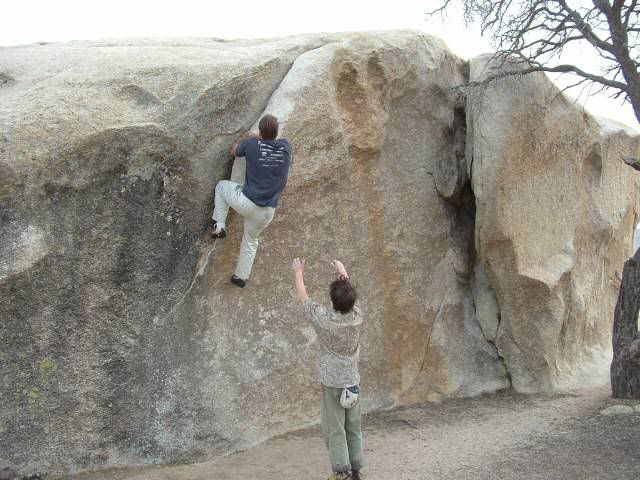 Ryan, with Brenden Spotting



Brenden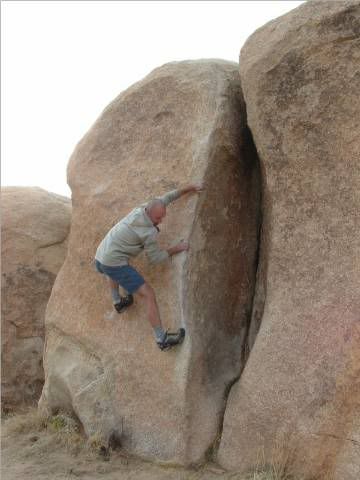 Wojtek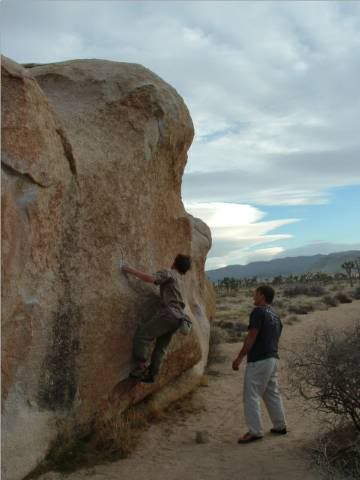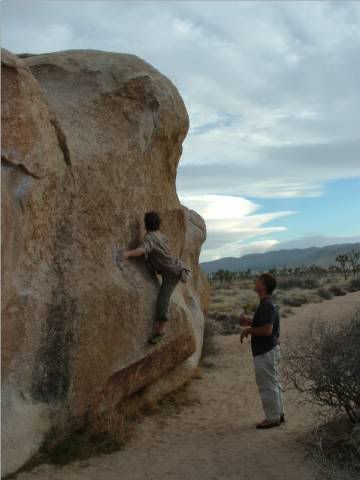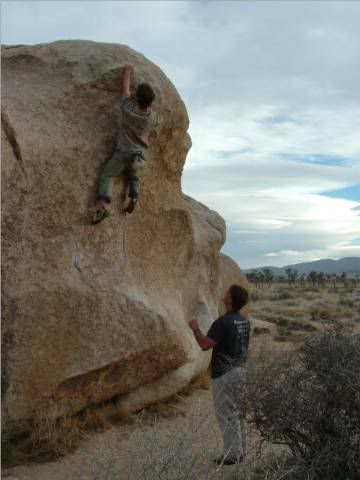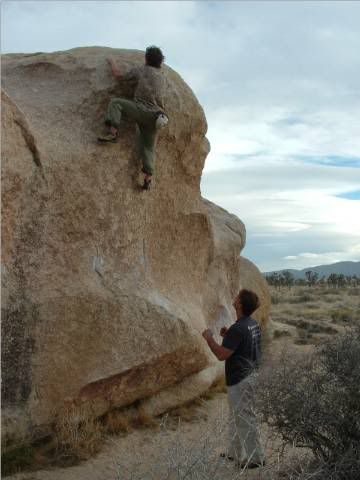 Brenden, with Ryan Spotting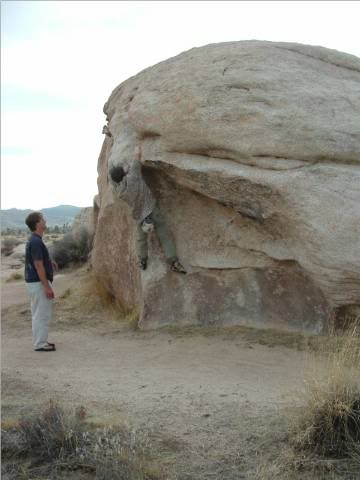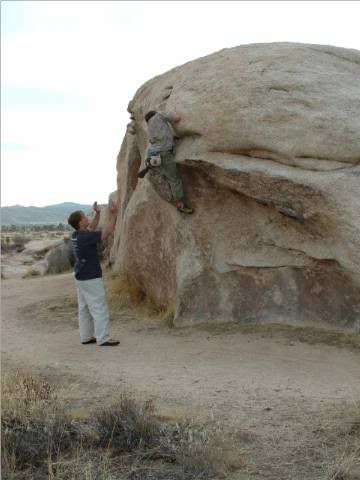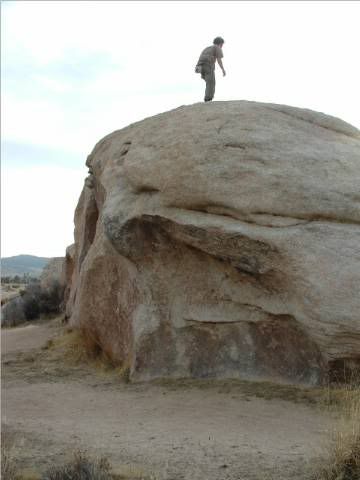 Brenden, with Ryan on the spot



Landscape - cool clouds that afternoon